Australia's top doctors have declared a Lyell McEwin medic a hero, crediting her thoroughness with halting a deadly outbreak.
IT was close to midnight on a typically busy Friday night in the Lyell McEwin Hospital's emergency department when Dr Dharminy Thurairatnam, by now a few hours into her nightshift, saw an ill elderly woman.
The woman, 81, was feeling a "bit off and a little bit weak", prompting her worried family to travel to the northern suburbs hospital, Elizabeth Vale, to get her checked.
But as the junior doctor closely observed her patient, assessing "very mild, non-specific" symptoms, she had no typical COVID-19 indicators such as a fever or runny nose.
Then she coughed twice.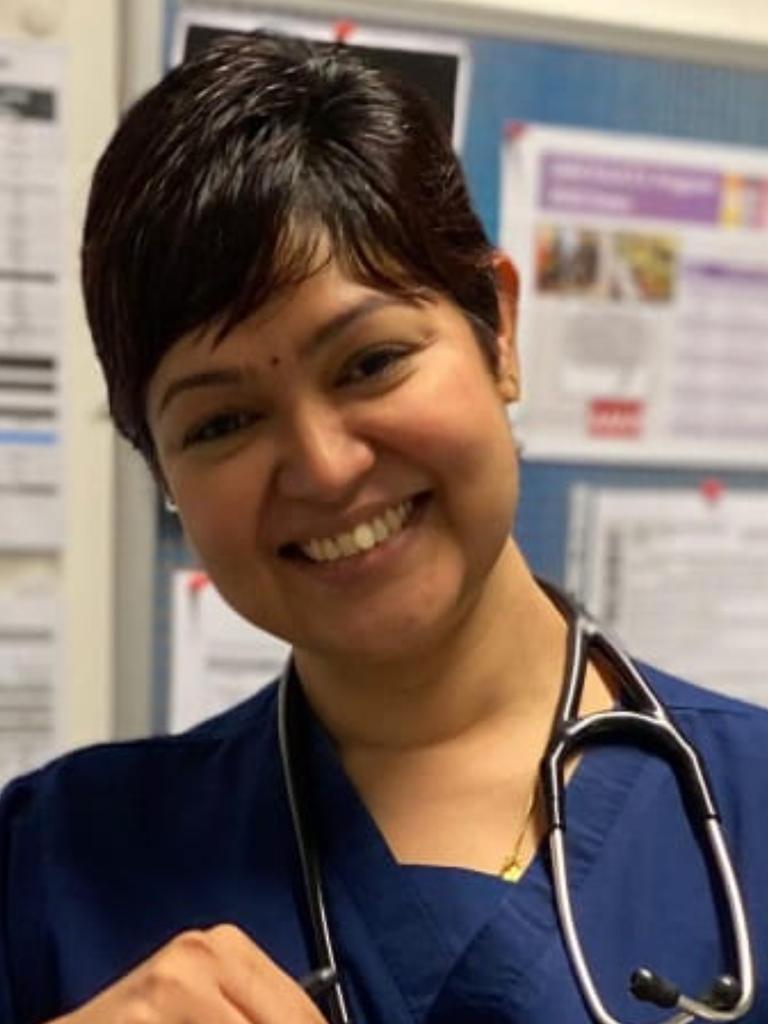 Alarm bells ringing, Dr Dharminy ordered a complete respiratory swab: "I figured it was better to be safe than sorry."
Her decision has drawn high praise from Australia's top doctor and the tate's COVID health chief, who has hailed her a "heroine".
Authorities believe her "astute" assessment has prevented disaster after the positive reading was discovered last Saturday night, alerting them to a feared case of community transmission and the discovery of the Parafield cluster.
In an exclusive interview, a "humbled" Dr Dharminy, aged in her 30s, who moved to Adelaide's north from Singapore last year, told the Sunday Mail how she was "honoured" to receive widespread praise for doing her job.
"I am only a tiny doctor at the emergency department who tries to do her very best with every patient that I treat," she said from The Playford Adelaide medi-hotel after being quarantined with 90 other staff or patients.
As for the hero part, I think every frontline worker is a hero during the pandemic."
Despite since feeling unwell with a sore throat and runny nose, Dr Dharminy – who has not seen her husband, Pravin and two young sons, Thaarman, seven, and four year-old Coshaal, since March after international borders closed – has returned two negative tests.
Her patient, and the woman's husband, also in his 80s, caught the disease from their daughter, the cluster's source, who works as a cleaner at the cluster epicentre, Peppers Waymouth Adelaide hotel.
After spending the week in the Royal Adelaide Hospital's COVID ward due to their ages, they were discharged to a medi-hotel over the past few days.
At least 15 relatives, who work in medi-hotels, aged-care and Corrections, fell ill after mostly catching it at a "super spreader" family gathering.
Dr Dharminy, who graduated from medical school in 2006, said the woman's cough triggered an "alarm bell" and suspicions.
She said had she not coughed "there was absolutely no need to do a swab for her because she didn't have any typical symptoms that we would look for in COVID patients".
Dr Dharminy said praise should go to the hospital's senior consultants and staff.
"They have been very committed to teaching, very patiently guiding, grooming young clinicians like myself, sharpening and polishing our clinical acumen and gestalt," she said.
"A lot of times they often reiterate to us to observe the patient and pick up subtle signs that patients don't mention or may think is irrelevant.
"This has been ingrained in me and that was what I did the night I treated the patient.
"I would say it was a very real high index of clinical suspicion.
"The rest is history. I feel I was very focused in providing the best care that I could give to my patients.
"I was honestly just trying to do my job in the best way I can."
Quoting the late Canadian doctor, Sir William Osler, who is considered the father of modern medicine, she said: "I have been practising medicine long enough to know a good physician treats the disease and a great physician treats the patient, who has the disease."
Chief public health officer, Professor Nicola Spurrier, hailed the "heroine".